wadar International Airport is the biggest marvel of Gwadar and the largest Airport in Pakistan comprising 4,300 Acres of land with an estimated cost of 230 million dollars. Gwadar International Airport is operating under Chinese grant unlike other infrastructural projects working under CPEC concessional loans.
Boasting to host world's biggest airliner Airbus A380, Gwadar International Airport is a prime attraction in emerging port city. The valuable neighboring realms of Gwadar International Airport considered as the most rewarding ones in Gwadar by investment prospects.
Gwadar International Airport Development
No wonder, Gwadar International Airport is among the many reasons to lure investors' interest in emerging port city. Being the biggest airport in Pakistan, Gwadar International Airport comprises 4,300 Acres land which is the largest space than of Karachi, Islamabad and Lahore International Airports.
Gwadar New Airport project's groundbreaking took place on 29th March 2019 done by Prime Minister Imran Khan. Now development of this remarkable project is underway and a time span of three years is given for its completion.
Moreover it is worthy to be mentioned that Gwadar International Airport is also added in upcoming Gwadar Master Plan that's expected within 2019. The inclusion of Gwadar International Airport in Gwadar Master Plan assures the rapid development of project and its adjacent areas.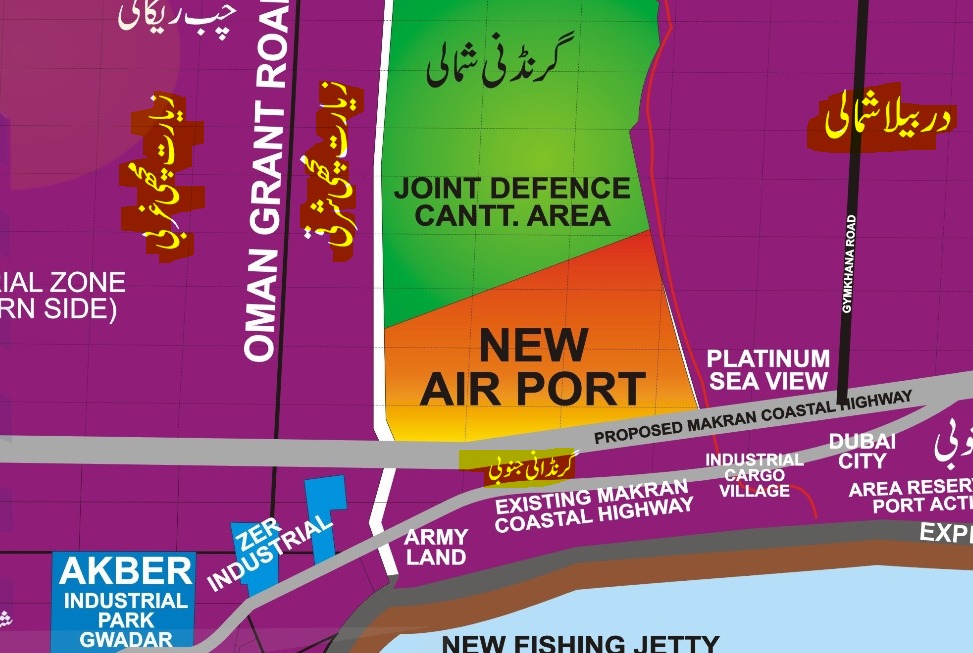 Gwadar Land Investment near New Airport
Gwadar International Airport neighboring areas reserve most voluminous returns in future. As the new Airport falls in industrial part of Gwadar City located on proposed Coastal Highway in Gurandani 26 KM east of Gwadar. The neighboring area of Gwadar International Airport offers great investment options in Gwadar land. Areas also known as Mouzas include Mouza Derbella Shumali, Mouza Ziarate Machi Sharqi, Gurandani Janubi and Mouza Ziarate Machi Gharbi.
Since the New Gwadar Airport is added in Gwadar Master Plan the charm for this realm is increased even more dubbed as short term investment options. Gwadar Cantonment is next to Gwadar International Airport. Gwadar Industrial Estate Development Authority (GIEDA) is just another most attractive option with great investment potential in near future. Gymkhana Gwadar also falls in close proximity to Gwadar International Airport.
Owing to the location that comes in Gwadar Industrial Land, it's not hard to understand that Gwadar International Airport has most of the commercial and industrial land options in its surrounding. These properties are the most lucrative and life changing investment options with the highest returns in short period of time.
As soon as the development of Gwadar International Airport moves forward, prices of land in surrounding will increase and after the launch of Gwadar Master Plan rates will boost and so the pace of development.
Investing near Gwadar International Airport right now is definitely the wisest move you can make and our realtors can give you the best advice for choosing the right option.